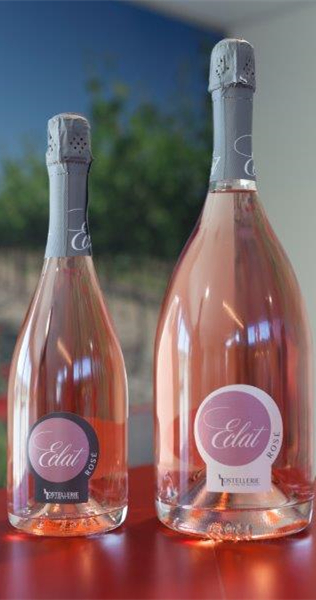 Eclat
TYPE                    Sparkling Rosé Wine
APPELLATION     South of France
ANALYSIS           12.0% alcohol, by volume
CLIMATE & TERRAIN
The vines are grown on the hills well exposed to the sun, Mistral winds and very little rain. The soil is calcareous, sandy, clayey and rich with limestone.
VINIFICATION
The harvest takes place in September/October in the cool, early hours of the morning and the grapes are passed inside the exchanger harvest to be cooled. They are sent to a pneumatic press while protected against oxygen by nitrogen injection. Settling is for 1 week between 0° and 4°C. and racking and fermentation with selected yeasts is for 15 days. The juice is blended, filtered and stabilized in stainless-steel vats allowing all impurities still present to filter down before close stainless-steel vats bubbling (3-6 months).
CHARACTERISTICS
Delicate rosé color, fresh and fruity bouquet,                                                                     well-balanced crisp and lively flavor of red                                                                        berries with citrus notes.
                                                            FOOD PAIRING
                                                            Perfect as an aperitif or desserts.
                                                            IDEAL CONSUMPTION TEMPERATURE
                                                            Cool service
                                                            

Wine Notes
                                                            

Poster